About Us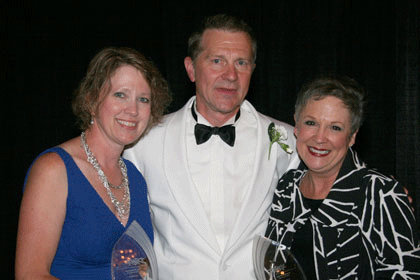 Past recognitions:
We are excited to announce that Kristi Salisbury was recognized by the Dietary Managers Association as the 2010 Distinguished Service Award recipient.
Distinguished Service Award winner Kristi Salisbury, President William St. John and Bonnie Lonbaken, one of the past chairs, at the 50th Anniversary Leadership Recognition Banquet.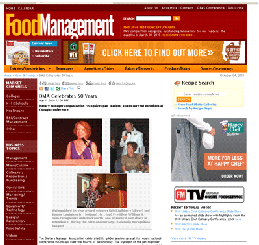 Click here to read the complete article on the Food Management website
Kristi Salisbury, CDM, CFPP, RD
I am a Certified Dietary Manager and Registered Dietitian. I attended North Dakota State University earning a degree in foodservice management and dietetics. Starting my healthcare foodservice career over 30 years ago as a dishwasher and aid, while in college, was just the beginning. By my junior year in college, I was the director of the hospital and nursing home in my hometown. After college, I continued working for eleven years at this facility. There I learned the basics of the healthcare foodservice business. The facility was small enough to allow for diversity in responsibilities but large enough to get a variety of knowledge.
I moved on to a Southern Minnesota hospital and added to my resume of experience working as a Registered Dietitian as well as the director. As our business grew, I hired another dietitian and started consulting for the hospital at nursing homes and hospitals in the region as well as the local state correctional facility. This experience allowed me to grow in my profession and in my leadership skills. From there I moved to a larger hospital and nursing home in Northern Minnesota and then to a Long Term Acute Care hospital in St. Paul.
I have had the great opportunity to grow my leadership experience through my involvement in my professional associations.
State and Local Association Experience
North Dakota and Minnesota State DMA President
Twin Cities Consulting Dietitians President
National Association Experience
National Board member for Dietary Mangers Association
National Chairman of the Board for Dietary Mangers Association
National Board member for Certifying Board for Dietary Managers
National Chairman of the Board for Certifying Board for Dietary Managers
International Board member and executive committee member for Healthcare Caters International
Served on several committees throughout my 20+ years of volunteering for Dietary Managers Association

On the development team for the DMA Leadership Institute
Strategic Planning for the organization
Development of Healthcare Caters International

I have been a speaker at the State and Annual meeting of the Dietary Managers Association
Personally, I enjoy music, theater, golf and traveling. One of my skills is working with people to build upon their strengths and see how they can maximize their potential. I am excited about dk Foodservice Solutions, LLC as it is allowing me to live out a lifelong dream of taking my experience and share it with other foodservice directors.
You can view more specifics of my background at LinkedIn by clicking on this web link: www.linkedin.com/in/kristisalisbury
dk Foodservice Solutions, LLC is a foodservice management consulting company that is designed to work with foodservice directors and administrators/CEO. We started the company in 2009. Kristi Salisbury has over 30 years of healthcare foodservice experience.
Our mission is to provide support for today's foodservice director that allows for improved financial performance with a focus on operations. We work with Administrators and Foodservice Directors to build stronger relationships, which builds a stronger foodservice manager, which leads to a stronger department. We are not a management company and we do not want to take on the role of the manager. We want to develop the manager into a leader in their organization and the foodservice industry.